FPV Whoop Racing Advanced Kit 2
Regular price
$199.99 USD
Save

$-199.99 USD
---
We are sorry to announce that the FPV Whoop Racing Advanced Kit 2 was sold out. We highly recommend the Cetus FPV kit that is more suitable for getting started with the FPV hobby.
Meteor65 lite, with classical Silverware firmware, is the best 1S whoop Drone for indoor flying. There is no doubt that Meteor65 Lite is a perfect spare quadcopter for the Advanced Kit 2 owner. Pilots can use the radio transmitter and goggles with this smaller and more flexible 65mm Whoop Quad to get an amazing indoor flight experience!
BETAFPV Advanced Kit 2 - the best RTF kit for the drone starter as well as FPV pros to practice indoor. The special design of the Meteor75 Lite brushless drone, remarkable LiteRadio 2 SE transmitter, and VR01 FPV Goggles bring you an unforgettable flight experience. 
Please Kindly Note:

If the frame is deformed before flying, please adjust the frame to its normal shape first. Ensure that the propellers won't scratch against the frame duct and the motors could spin smoothly.
If the drone crashes or garbage rolls into the prop, pull the SA switch on the radio transmitter immediately.
Special thanks for the review of Justin Davis, it is a great help for fans to make the right value choices.

Bullet Points
Due to the popularity of the Meteor series, we 

especially put the new meteor 75 lite

 into our advanced kit. It's a

 lightweight 1S whoop quadcopter, only

weighs 28.8g, and is simple to operate.

 The high-performance FC and motors can offer

 the quadcopter plenty of power and control both indoor and outdoor flying. 
LiteRadio 2 SE transmitter is super easy to bind and operate, perfect for the beginner or experienced FPV racer. It has 

an excellent e

ndurance

 performance which can up to 8 hours, brings pilots a better flight experience.

 With the hobby-grade gimbal and adopted the rubber coat, make it more ergonomic. 

BETAFPV VR01 FPV Goggles has a 4.3 inches 800*480px HD high brightness LCD screen

,

 specially tuned for FPV racing or Model aircraft. The ergonomic design features a foam sponge faceplate and a three-sided adjustable headband. These FPV Goggles fit your face and head perfectly.
This simple and clear user manual has all you need to get fly quickly. The FPV whoop racing advanced kit 2 is a really great Ready To Fly kit to get everyone started indoor and outdoor FPV racing, freestyle, or just easy cruising.
All parts are stored in a special customized carry case

,

which provides better protection and is easy to carry.
Meteor75 Lite Drone
For getting a cool appearance and to increase durability, we specially redesigned the Meteor75 frame. It makes the meteor75 lite look refreshing and unique. Meanwhile, meteor75 lite is the first drone that is equipped with Lite 1S Brushless FC, which supports the Frsky D8 protocol. Featured 1102-18000KV Motor and Gemfan 40mm 3-blade propeller, pilots can get great speed and power. Comes with BT2.0 connector, lots of problems of Ph2.0 connector like voltage sag has been solved perfectly, pilots can enjoy 3-4 minute flight with BT2.0 450mAh 1S battery. Special offers the replacement frame - Meteor75 Frame.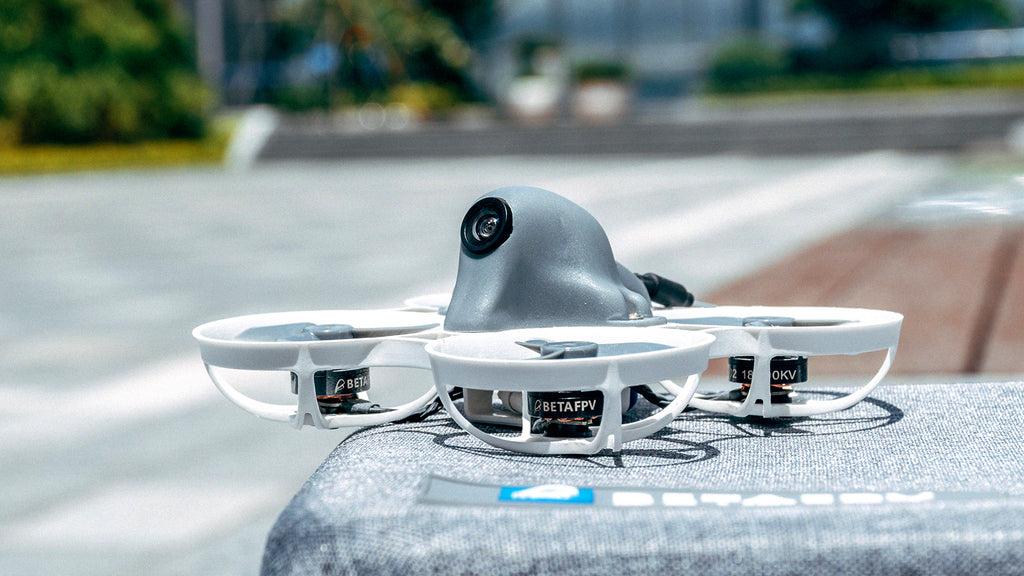 LiteRadio 2 SE Transmitter
Designed for FPV racing starters, the LiteRadio 2 SE transmitter comes with a built-in 1000mah 1S battery, having an excellent endurance performance which can up to 8 hours, brings pilots a better flight experience. With the hobby-grade gimbal and adopted the rubber coat, it is more ergonomic.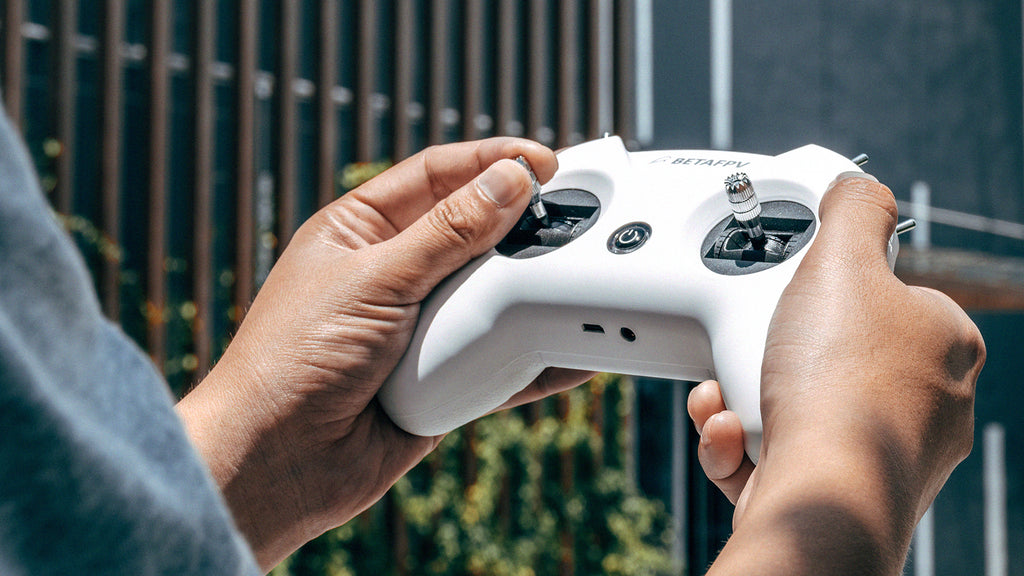 VR01 FPV Goggles
BETAFPV VR01 FPV Goggles - a First-Person-View Goggle with 4.3 inches 800*480px HD high brightness LCD which will allow you to experience a bright world without warped and blurred images. Adopt an ergonomic design with a foam sponge faceplate and a three-sided adjustable headband, comfortable like cotton, and suitable for all age ranges.
Noticed: Pilots can change the OSD and VTX setting from the Goggle.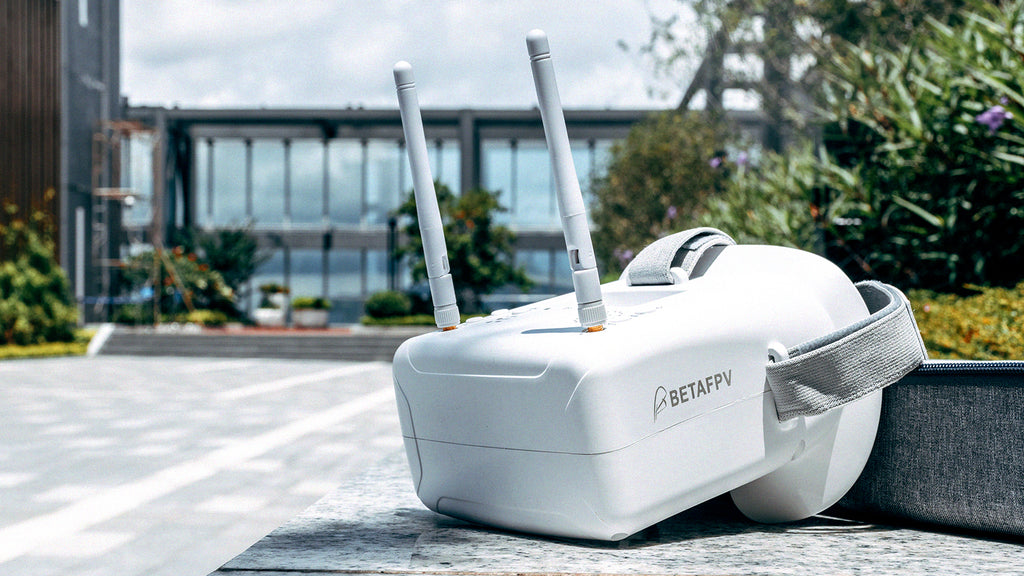 Spare 

Parts List

Comes with spare parts including 2 pcs BT2.0 450mAh battery, 1pc BT2.0 battery charger&tester, super portable for charging. What's more, the Batteries, USB charger, and Spare parts for easy repairs. We also provided 4 props and 1 prop removal tool, convenient to exchange the props.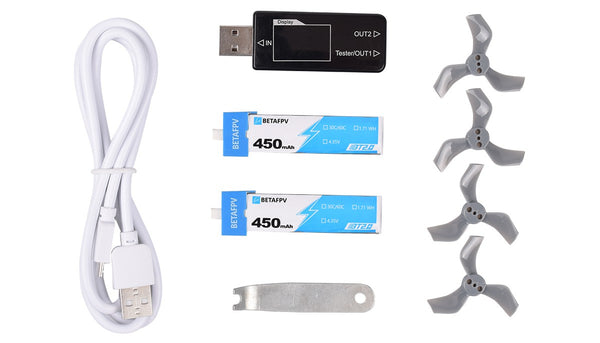 FAQ
Package
1 * M

eteor75 Lite

 Brushless Whoop Drone
1 *

 TypeC Adapter

1 * USB C

harging Cable

2 *

 

Dipole 5.8G Antennas

1 * BT2.0 Battery Charger & Tester
1 * Props Removal Tool
1 * User Manual

1 * Customized EVA Carry Case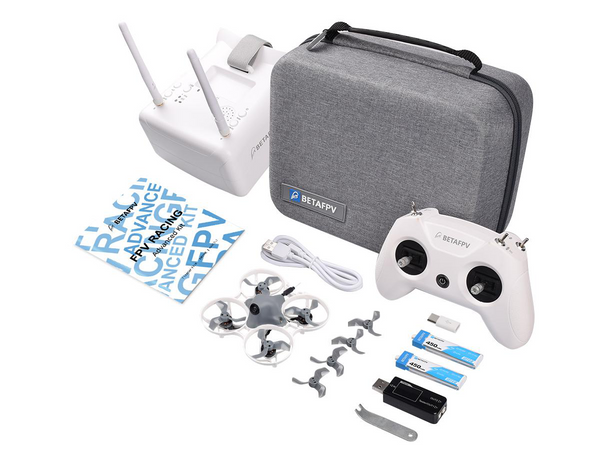 Betafpv.com offers a (30) day manufacture defect warranty, starting from the date the product(s) was delivered to the customer. If more than 30 days have passed since receiving your purchase, unfortunately we can't offer you a refund or exchange.
For merchandise was confirmed as genuinely defective(Product Design problem & Quality issues), we will ship out a replacement free of charge directly. The consumer will not be charged any fees for approved warranty service.
In almost all cases, we will work with you to debug your issue firstly. 
Each claim should have all proof of defect by mean of photo or video showing clearly the defect of the product. Please create a ticket to send us photos or video of your product, a detailed description of your issue, and a description of what you have already done to fix it. We are happy to solve any problem you may meet.
NOTE: The refund amount is limited to the purchase price of the item.
Directly Send Ticket: Create a new ticket
*We do not accept ALL kinds of returns.
*All sales are final.
Shipping Time and Rules
Estimated Shipping Time
Expedited Shipping: 3-7 working days
Standard Shipping (Registered Mail): 12-30 working days
Please note:
There are estimated delivery time only, so BETAFPV can not guarantee an exact delivery time.
The estimated delivery time may be longer if any battery is included in your order.
Affected by Covid-19, there may be some delay in the delivery.
Track Package
After the order is shipped, you will receive a notification email containing the tracking number (you need to register BETAFPV website when placing the order). You can enter the tracking number to check your package shipment status below. Please contact BETAFPV customer support for help if you are not able to track it.
PO Boxes/APO/FPO Addresses
Shipments to PO Boxes, APO, FPO may be declined.
Batteries Shipping
Some countries or remote regions are forbidden to ship stand-alone batteries due to restricted Customs rules.
We will notify you if we are unable to ship batteries to your location. For expedited shipping like DHL, stand-alone batteries are prohibited to be shipped.Devices packed with less than or equal to two batteries like drones are available to be shipped. Devices in which Batteries contained like transmitters or goggles are accepted to be shipped without limits.
Battery Type Definitions
Stand-alone: Package ONLY contains batteries or cells; NO equipment
Packed with: Package contains equipment + cells or batteries that are NOT installed in the equipment. For example, BNF drones with batteries or RTF drone kits.
Contained in: Package has lithium batteries contained in equipment (properly installed in the equipment they are intended to operate). For example, radio transmitter or goggles.
List of Countries That Prohibit From Importing Drones or Batteries
Choosing standard shipping will be restricted.
Asia: India, Indonesia, Malaysia, Vietnam, Philippines, Pakistan, Qatar, Oman
Africa: South Africa
Note: It will be available for drones shipment if you would like to choose expedited shipping like DHL.
Address Information Requirement
For orders from below countries or regions, address information is specially required.
Hong Kong or Macao: Please fill address and name in Chinese (traditional).
Taiwan: Please fill address and name in Chinese (traditional), and provide personal ID number due to Customs requirement.
South Korea: Please provide personal clearance code. You can apply for it from the below link if you do not have one.
https://unipass.customs.go.kr/csp/index.do
Brazil: Please provide your tax number (CPF) in your address.
Chile: Please provide your individual tax number in your address.
Indonesia: Please provide your personal ID number in your address. Provide NPWP number if you place order as company.
BETAFPV Assume No Responsibility For Delayed Or Rejected Orders Due To The Following Reasons
Shipping time might be delayed for 3-7 days for transportation to remote regions. It might be 7 days longer if ships to islands area like Hawaii, Puerto Rico, Canary Islands etc.
Delay or delivery failure because of the consignee's actions. These actions include, but are not limited to: changing the address after shipment, entering an unknown address or wrong address, entering incorrect contact information, and refusing to receive, etc.
Delay due to force majeure. "Force majeure" means an unforeseen, inevitable, or insurmountable objective situation and other objective conditions that cause delayed shipping, including, but not limited to: national or regional air or ground transportation system controls or interruptions (e.g., weather reasons), communication system interference or malfunction, government actions, postal administration policy changes, wars, earthquakes, typhoons, floods, fires, heavy rain, heavy fog, and other similar events.
Mail and packages cannot be delivered to the consignee's address during weekends, national holidays, and festivals.
The consignee address is a school, hotel, unit, or residential community where the courier has no access. Please provide a permanent street address.
*Please confirm your address before payment. If you enter the wrong address, please contact BETAFPV customer support in a timely manner.
Shipping Method and Fee
Standard Shipping
We offer free standard shipping on orders of $99.99 or more. If your order does not qualify for free shipping, the shipping fee will be charged $5 on orders of $20 - $99.98; charged $10 on orders of less than $20. (Shipping fee will be different when delivering to remote countries/regions.)
Products with big volume are excluded from free shipping rule due to dimensional weight calculated by shipping company.
The product collections list is as follows:
Expedited Shipping
We offer expedited shipping service worldwide including islands area. The shipping fee will be shown on the check-out page once the expedited shipping method is chosen.
Note: Purchasers are responsible for customs duties, taxes, customs clearance and other costs incurred when choosing expedited shipping.
FAQ
How long until my order ships?
All orders will be processed within 1-2 working days after your payment.
If we are experiencing a high volume of orders or some products on back order, shipments may be delayed by a few days.
If there will be a significant delay in the shipment of your order, we will contact you via email. Please make sure your email address is available and remember to check the email for the notification.
After I place an order, how do I change my order before shipment?
The nation cannot be changed once an order has been placed. If you need to change these details, please cancel the order and purchase again. Please contact BETAFPV customer support in 24 hours after placing the order if you need to change order product information or address.
How do I cancel after I have placed the order, but it has not shipped?
You can contact BETAFPV customer support for canceling if your order has not been shipped. If your order has been shipped less than 24 hours, please contact the customer service to help. We will try to hold your order from the shipping company.
It is impossible to cancel if your order has been shipped over 24 hours.
Under what circumstances will BETAFPV cancel an order unilaterally?
Product(s) unavailable currently, BETAFPV tries to contact customers and does not get a reply in 7 days.
High-Risk Order(s) identified by Credit Card bank or Paypal. To ensure your card safety, we will cancel your order.
No Shipping Methods. If we are not able to ship to your location, Your order will be canceled.
*The right of final interpretation of the shipping policy resides with BETAFPV