BETAFPV LOOP GIVEAWAY WITH GEMFAN
We're so excited to announce our loop giveaway with GEMFAN! By completing the loop, you'll be entered for the chance to win a gift! Enter before 12 p.m. UTC on 31st July 2020, for a chance to win.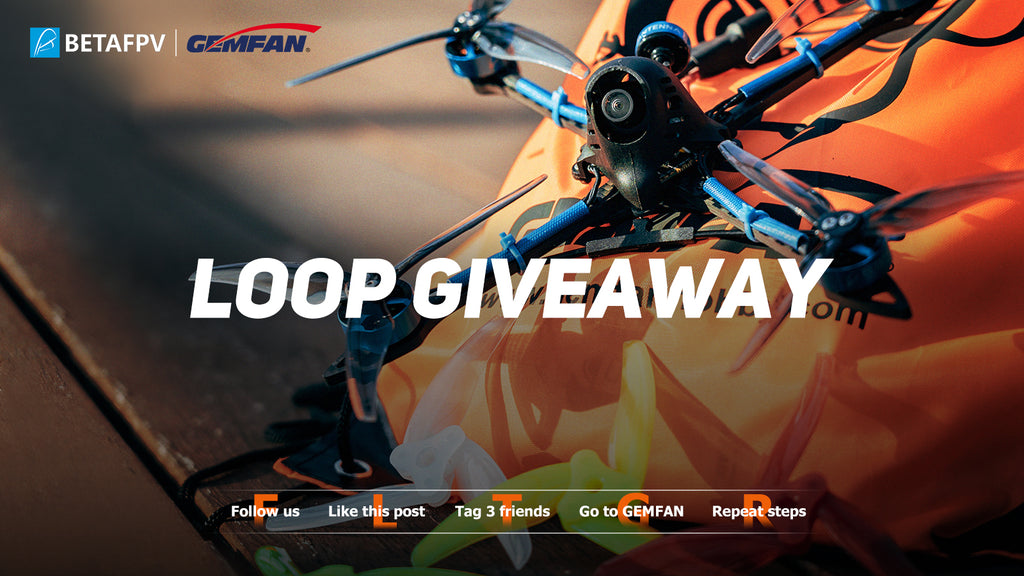 What are the prizes?
2 * 

GEMFAN Giftbag (Including with 20 sets Floppy Poppy 5135 and 10sets Hurricane SL 5125)
Note: There are three gifts for 3 winners, everyone will get one Xknigt 5 Toothpick OR one Gemfan gift bag.
How to join the giveaway?
Follow us on Instagram: BETAFPV
Like this post
Tag 3 friends in the comments below
Go to GEMFAN next, follow their IG account and like this post in their feed
Repeat steps for each account in the loop
Giveaway Time
The giveaway will be running from 25th July -31st July 2020 (UTC+12)
Winner List
- Winners will choose randomly from all entries received who qualified with the rules.
Announcement
- The winners will be announced on 3rd Aug 2020.
Follow-up
- We would be pleased to interview our Lucky Winners.
Terms and Conditions
Joining this giveaway, you will be followed the rules as below:
1. Only when the number of page fans reaches 10K, the winners will take effect by choosing randomly choose from all of the participates.
10K followers: Meteor65(whatever version you pick) + LiteRadio2 Transmitter -- 2 winners 
>10K followers: Every additional 300 followers will add a winner (prize: Meteor65(whatever version you pick) +LiteRadio2 Transmitter)
15% OFF Discount Code for 10 people ( 10KGIVEAWAY )
2. Furthering entering into this giveaway after the end date will not acceptable.
3. The winner will be notified by direct message on Facebook.
You will be giving up the prize by default if no response from your side within 10 days after the announcement. And the new winner will arise.
4. No responsibility can be accepted for entries not received for whatever reason.
5. The prize is as stated and no cash or other alternatives will be offered. The prizes are not transferable. Prizes are subject to availability and we reserve the right to substitute any prize with another of equivalent value without giving notice.
GO TO OUR PAGE TO JOIN THE 10K GIVEAWAY NOW 👇👇: 
👉👉  INSTAGRAM
---