Toothpick F722 2-6S AIO Brushless Flight Controller 35A(BLHeli_S)
Regular price
$84.99 USD
Save

$-84.99 USD
---
F722 2-6S AIO 35A FC is a very reliable FC that is made to meet your advanced FPV needs. Comes with an F722 chip and BLHeli_S ESC firmware, this board provides a better performance capability and higher calculation speed, which brings pilots a more stable and smoother flight. What's more, F722 AIO 35A FC has specially added a 6-pin connector for DJI Digital VTX, just plug & play, less solder work needed, super easy to install. It also can handle up to 6S of input voltage and push your FPV racer to the max. We highly recommend it for 4-5'' Toothpick quad, such as X-Knight 5'' Toothpick Quadcopter.

Note: The MPU6000 gyro is not available due to rising prices and lack of stock. We decide to change the gyro to BMI270 for the Toothpick series flight controller to continuously provide the product service.
Know More About BMI270
BMI270 gyro works great in most cases, especially in low frequency. But it will need more software filters and is sensitive in high frequency. This can be solved by adjusting filter settings in PID tuning. You can flash our CLI file or set gyro lowpass 2 at 135Hz and choose filter type at PT2 in settings. This will help BMI270 gyro to get a similar performance as MPU6000 gyro. Below pictures show the difference between the two gyros.


Download CLI File & FC Firmware here.

Bullet Point
Compare with F4 AIO 35A FC, F722 FC's firmware is upgraded from F411 to F722, providing a better performance capability and higher calculation speed, which brings pilots a more stable and smoother flight.

F722 AIO 35A FC has specially added a 6-pin connector for DJI Digital VTX, just plug & play, less solder work needed, perfect for the pilots who enjoy the DJI Digital VTX system.

6 full UARTs are available on this board. With plenty of UARTS, Pilots could have

more options for external parts like

 VTX, GPS, Receiver, and other components.

It can handle 35A continuous current(40A burst), totally supports the 2-6S lipo battery, brings the drone a stronger flight performance.

With the 6S battery and this F722 

35A AIO toothpick FC, the drone will break through the limit of the power of the toothpick drone, exploring more possibilities in 4-5'' drones.
Specification of FC
Item: F722 35A AIO FC(BLHeli_S)
Weight: 7.06g
CPU:

STM32F722RET6

Six-Axis: BMI270 (SPI connection)
Mounting hole size: 26mm * 26mm
Firmware version:

betaflight_4.2.x_BETAFPVF722

OSD: Built-in BetaFlight OSD (OSD chip:

AT7456E

)
Support programmable LED like WS2812 etc
Built-in current sensor
Specification of ESC
Signal support: PWM, Oneshot125, Oneshot42, Multishot, Dshot150, Dshot300, Dshot600
Receiver: Support Frsky XM/XM+ Receiver/ Futaba Receiver/Flysky Receiver/DSMX Receiver/TBS Crossfire Receiver (requires external connection)
Input voltage: 2S-6S Lipo
Continuous current: 35A
Peak current: 40A
ESC firmware: BLHeli_S
Indicators: 2 indicators: receiver indicator (green)/Flight control power indicator (red)
Capacitance: CS|5*10*13mm|470μF|35V
Connecter: 80mm 14AWG silicone cable with XT60
Recommended motors: 14XX series, 15XX series, 16XX series, 18XX series, 2

0XX series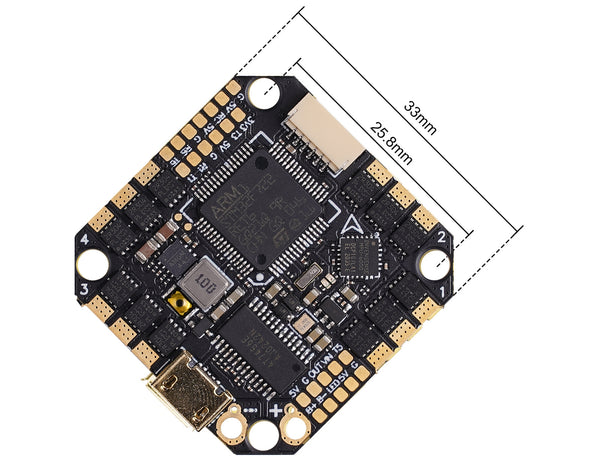 Diagram for F722 35A AIO FC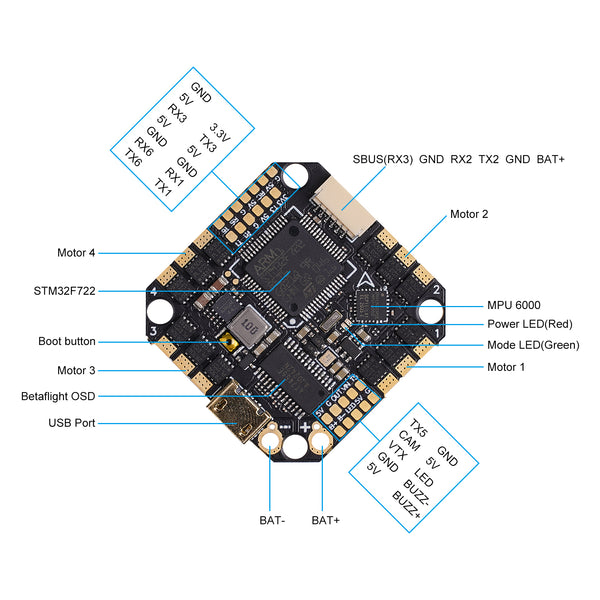 Status LED
There are 2 LEDs on the bottom of the board to indicate the status, including the Receiver LED ( Green) and FC Power LED ( Red ).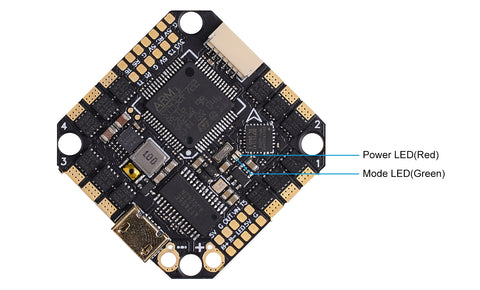 | | | |
| --- | --- | --- |
| LED |  Status |  Description |
| Mode LED (Green) |  Solid | Horizon Mode/ Angle Mode |
| Mode LED (Green) |  Extinguished | Acro Mode |
| Power LED (Red) |  Solid |  Power on |
How to Connect the External Rx to the F722 FC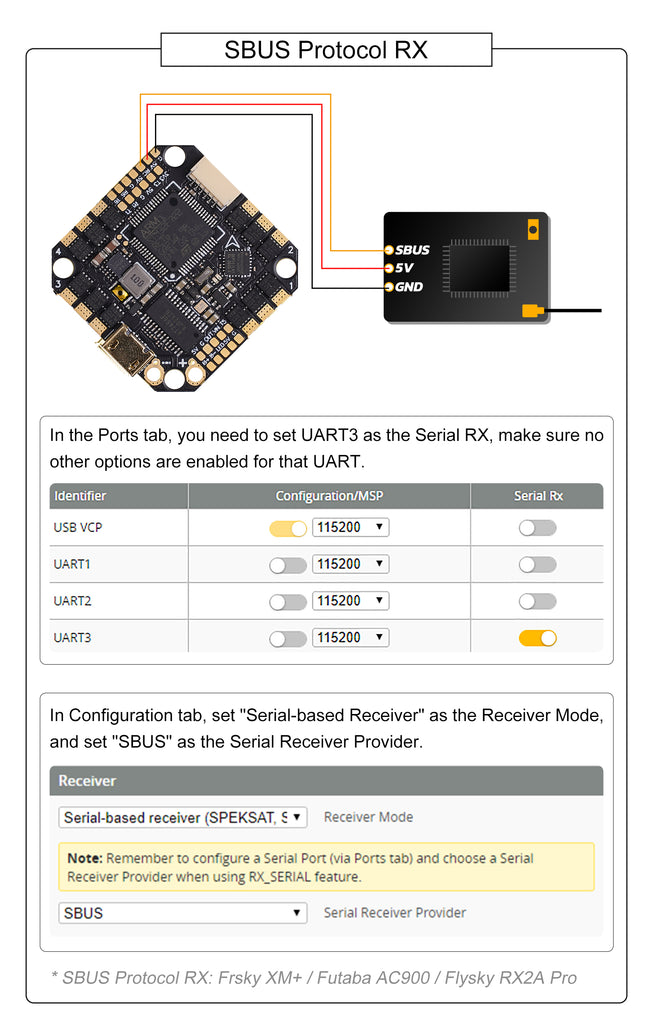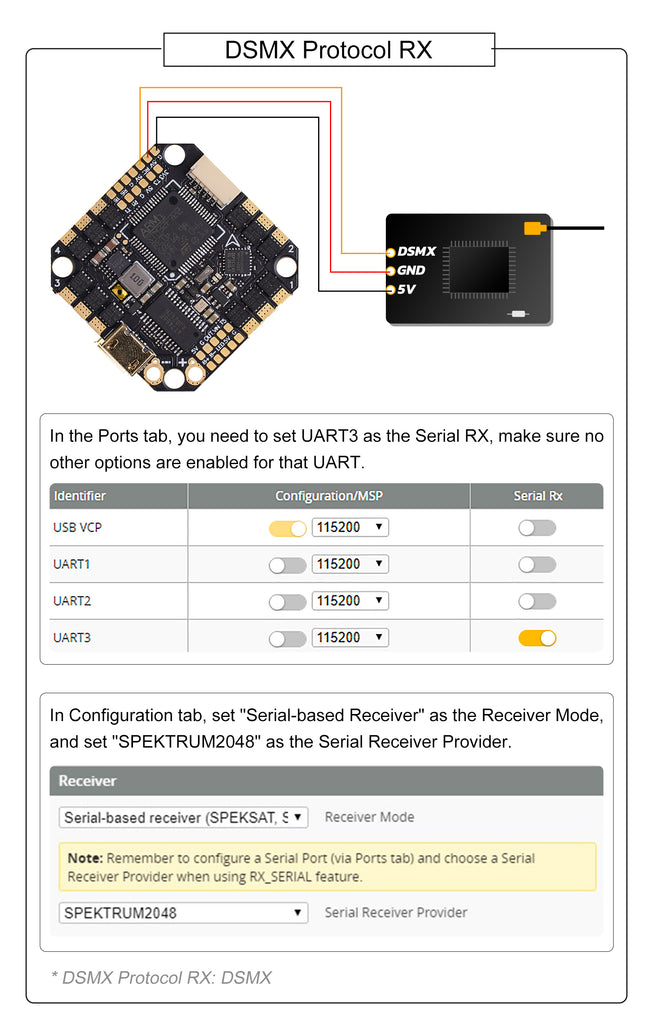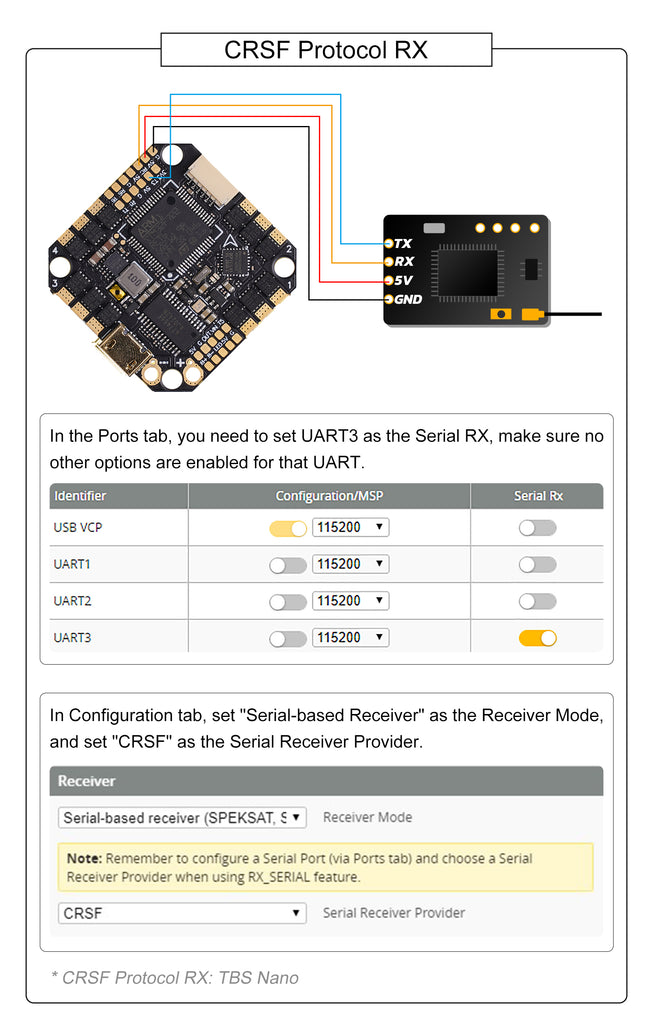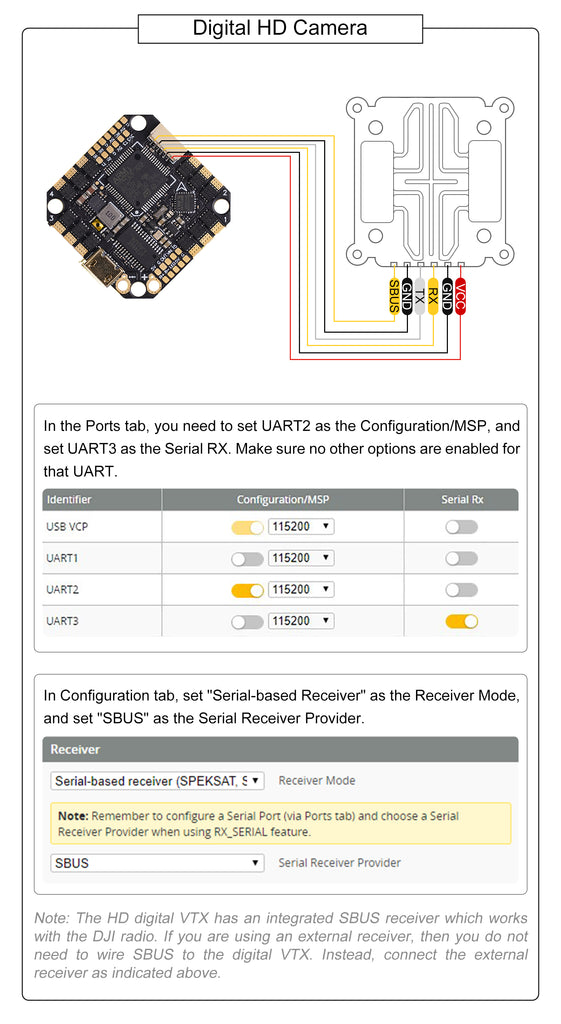 Recommended Parts
Package
1 * Toothpick F722 35A AIO 2-6S brushless flight controller
1 * Cable Pigtail (XT60U)
1 * C

apacitance

1 * 6-Pin Connector for DJI Digital VTX

4 * M2x10mm Screws
8 * M2 Nuts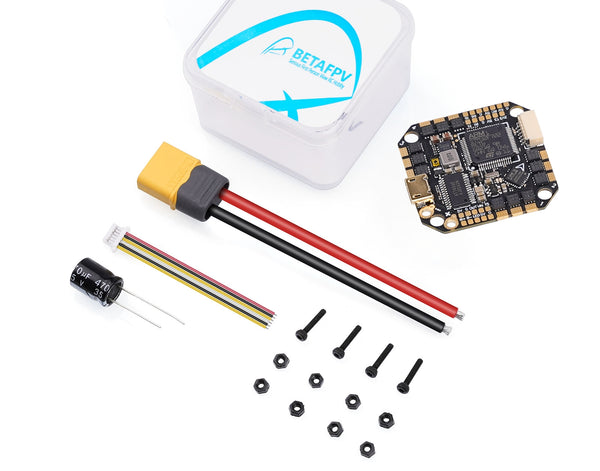 Betafpv.com offers a (30) day manufacture defect warranty, starting from the date the product(s) was delivered to the customer. If more than 30 days have passed since receiving your purchase, unfortunately we can't offer you a refund or exchange.
For merchandise was confirmed as genuinely defective(Product Design problem & Quality issues), we will ship out a replacement free of charge directly. The consumer will not be charged any fees for approved warranty service.
In almost all cases, we will work with you to debug your issue firstly. 
Each claim should have all proof of defect by mean of photo or video showing clearly the defect of the product. Please create a ticket to send us photos or video of your product, a detailed description of your issue, and a description of what you have already done to fix it. We are happy to solve any problem you may meet.
NOTE: The refund amount is limited to the purchase price of the item.
Directly Send Ticket: Create a new ticket
*We do not accept ALL kinds of returns.
*All sales are final.
Affected by Covid-19, there will be some delay in the delivery.
Shipping Methods and Charges
We are currently able to ship orders to most international addresses. But some countries are not available to ship batteries without purchasing of whoop drone (logistics company restrictions).
Two shipping methods are provided for you now. 
Standard Shipping
Expedited Shipping (including DHL / FedEx / UPS. Can not ship batteries)
For expedited shipping, you need to pay weight-based rates, which will be calculated automatically.
For standard shipping, then the shipping fee depends on the value of your orders. 
If your order is more than 20 USD and less than 99.99 USD, the shipping fee is 5 USD. And the standard shipping fee is 10 USD if your order is less than 20 USD.
Free
 standard 
shipping is offered when your order is over 99.99 USD.
Note:
- Some remote address will be charged remote shipping fees according to the quotation of the logistics company.
- Some special products with
big volume 
are not applied to this free shipping rule. The product collections list as follows:
For the strict Customs Policy, countries below are not available for delivering batteries. Therefore, if you fail to purchase from our site, hope can you understand that. We'll open selling once there is a reliable logistics channel.
-India (Both drones and batteries)
-Kuwait
Shipping Time:
All
orders
will be processed
within 3-5 working days after your payment clearing.
If we are experiencing a high volume of orders or some products are out of stock, shipments may be delayed in a few days.
If there will be a significant delay in the shipment of your order, we will contact you via email. Please make sure your email address is available and remember to check the email for the notification.
Estimated Shipping Time:
Expedited Shipping: 3-7 

working days

Standard Shipping (Registered Mail):  12-30 working days
Please note:
* These are estimated delivery times only, BETAFPV can not guarantee an exact delivery time.
* The estimated delivery time may be longer if any battery included in your order.
* Affected by Covid-19, there may be some delay in the delivery. 
* We accept no responsibilities and liabilities for delay in shipping time as this is beyond our control.
* Any problem about shipping info of your order, please contact Customer Support.
Battery Shpping Issues
- We can't ship the battery to the following countries by now: Indonesia / Middle / East / Indonesia/ Philippines/ Vietnam/ India/ Mexico/ UAE/ Brunei/ Finland/ Chile / Brazil / Oman and other remote areas. If your place a order but we don't have a logistic chanel to ship, we will send an email to inform you cancel the order. 
- For European customers, if your parcel includes only batteries, it will take a longer time for the parcel to arrive in your country. 
Click here
to track your parcel. 
- If you only order batteries without a drone, then it can't be shipped by expedited Shipping (including DHL / FedEx / UPS) because of the strict restriction of shipping.
- If the number of batteries in your order exceeds the acceptable range of the logistics, we will ask you to cancel order or ship the batteries separately(extra shipping fee may be requried).
More Info requried
If  you are in Taiwan, South Korea or Brazil, there is some extra information that we need in your order because of your country's import policy. Please offer the fllowing information in your address, so we can ship your order in time.
Taiwan or Hongkong: please fill your address and name in Chinese.
South Korea: please provide your personal clearance code. If you do not have it, please apply it from this website:
https://unipass.customs.go.kr/csp/index.do
Brazil: please provide your tax number (CPF) in your address.
Chile: please provide your individual tax number in your address.
How To Track My Parcel
We provide trackable shipping service to most of the package. Please click here to reach detail information.
Wrong Address
Shipments will be sent to the address entered on our web page during checkout. We cannot be held responsible if the incorrect shipping address is entered by the customer during checkout. We can only modify a wrong address if customer contacts us before the package is marked as shipped.
We cannot change shipping addresses after the order has been shipped, as the address information you enter is used as part of the fraud checks and fraud prevention. If additional fees are required to re-ship packages due to address errors, those fees may be passed on to the customer.
Packages that are returned because of an incorrect address provided by the customer will be subject to an additional shipping charge. This shipping charge will apply even if you were not originally charged shipping under a free shipping promotion. 
Damaged box or incorrect item(s)
If you receive damaged or incorrect item(s), contact Customer Support in 5 business days with receipt of your shipment to make the necessary corrections. 
* All duties and taxes are the responsibility of the customer. 
Good
Fonctionne très bien. Merci