ELRS Micro TX Module
Regular price
$39.99 USD
Save

$0.00 USD
---
BETAFPV Micro RF TX module is based on the ExpressLRS project, an open-source RC link for RC applications. ExpressLRS aims to achieve the best possible link performance in both speeds, latency, and range. This makes ExpressLRS one of the fastest RC links available while still offering long-range performance.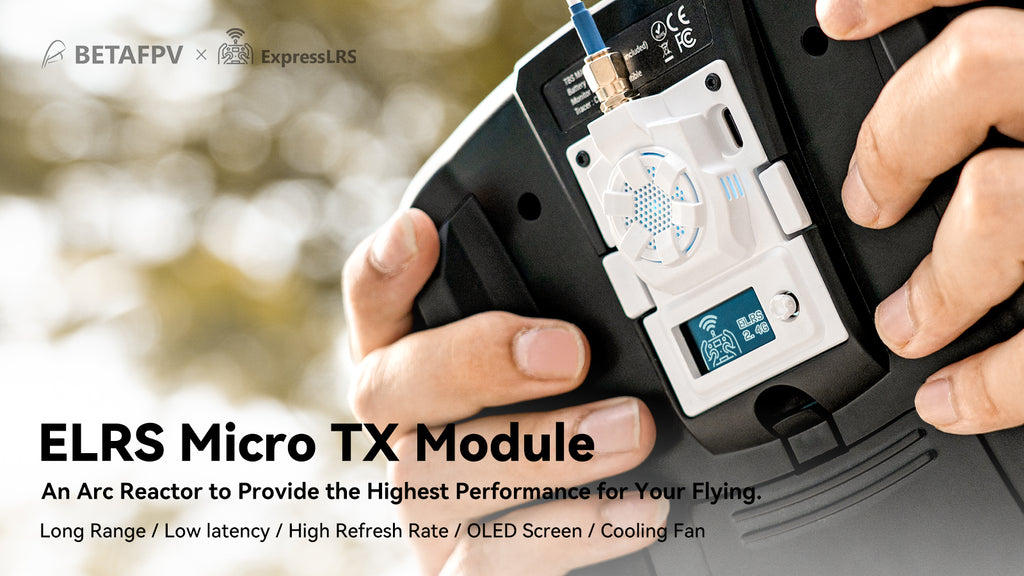 A ton of ExpressLRS items are available now!
Specification
Packet refresh rate: 25Hz/50Hz/100Hz/200Hz (915MHz/868MHz), 50Hz/150Hz/250Hz/500Hz (2.4GHz)
RF output power: 25mW/50mW/100mW/250mW/500mW (2.4GHz), 100mW/250mW/500mW (915MHz/868MHz)
Frequency bands (Micro RF Module 2.4G version): 2.4GHz ISM
Frequency bands (Micro RF Module 915MHz/868MHz version): 915MHz FCC/868MHz EU
Input voltage: 5V~12V
XT30 port: 5V~12V, recommend 2S(8.4V) battery, DO NOT support 3S(12.6V) or above 
USB port: Type-C
Diagram
BETAFPV Micro RF TX module is compatible with radio transmitter which has the micro module bay (AKA JR/SLIM module bay, e.g. Frsky Taranis X9D、TBS Mambo).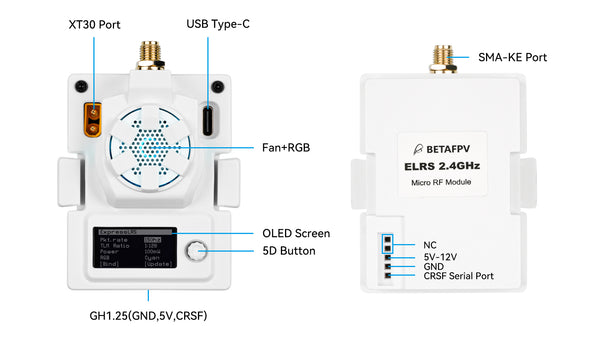 Note: Please assemble the antenna before power on. Otherwise, the PA chip in the Micro TX module will be damaged permanently. 

Note:Please DO NOT use 3S or above bettery to power up the TX module via XT30 port. Otherwise, the power supply chip in the TX module will be damaged permanently.
About the Firmware
The ExpressLRS offical project on Github does NOT support the OLED function for the moment. BETAFPV team will work with the ELRS team and make the offical repository support the OLED and button function ASAP.
Please get the firmware from BETAFPV Github nowadays until ExpressLRS offical support. In BETAFPV branch, the ExpressLRS protocol is V1.1.0 and NO binding phrase for the firmware.
NOTE: There are 2 known issues with this firmware currently. We will solve these 2 issues ASAP. If you find more other issue, feel free to leave a issue here.
Only support pressing function for the joystick.
When entering OLED menus page with long pressing, the connection between RF TX module and receiver will be lost, the connection will recover after exiting menus page automatically;
You could all use the ELRS offical firmware V2.0-RC2 now, but lost the function of OLED and Joystick. We will work with the ELRS dev team and make the ELRS offical firmware support the full function of the Micro TX Module. For the milestone, OLED will be supported in the V2.1 offically.
https://github.com/BETAFPV/ExpressLRS
User manual of How to Flash Firmware of ELRS RX/TX.
How do I set a binding phrase on this Micro TX module when the ELRS offical mainstream does not support OLED yet?
First, download the source code of master-betafpv-oled-menu branch to local from Github.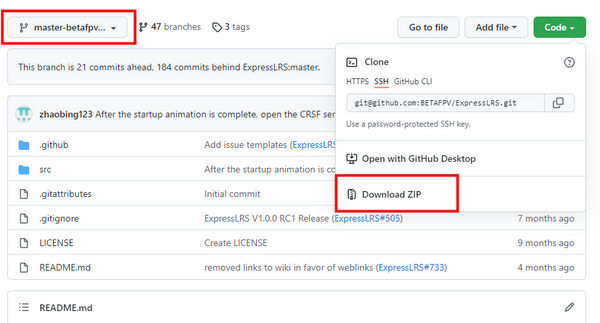 Second, open the ExpressLRS Configurator and load the upzip source code from local. Select the target device "BETAFPV 900/2400 TX Micro". Now, you could setup your own binding phrase and other options as normal.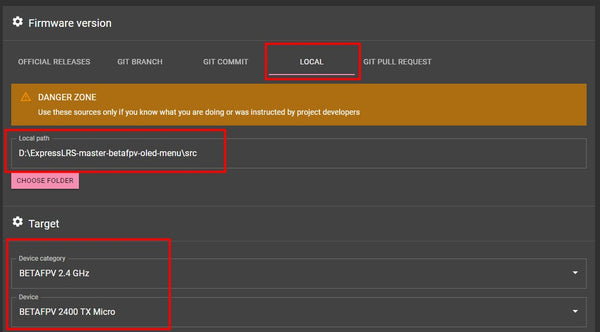 Third, build & flash.
Know More About ExpressLRS

ExpressLRS is an open-source RC link for RC applications. Everyone could find this project on Github or join the discussion in Facebook Group.
ExpressLRS is based on Semtech Lora SX127x or SX1280 hardware for RX and TX respectively. it aims to achieve the best possible link performance in both speeds, latency, and range. At 900 MHz a maximum of 200 Hz packet rate is supported. At 2.4 GHz a blistering 500Hz is currently supported with a custom OpenTX build. This makes ExpressLRS one of the fastest RC links available while still offering long-range performance.
More and more vendors start to support the ExpressLRS radio protocol in different parts, like radio transmitter with ELRS in stock, drone with built-in ELRS receiver, ELRS TX module for JR bay, or Nano bay. BETAFPV team take part in this project and provide a series of ExpressLRS components.
Button and OLED
The ELRS TX module could be configured via the OpenTX LUA script. With OLED and button, no-OpenTX radio controller that supports CRSF could use this ELRS Micro module easily. The following no-OpenTX radio controllers work well with this TX module. Futaba T16IZ, T16SZ and T18SZ (with update to 3.9e), Wsky ET16, Radiolink AT9S Pro.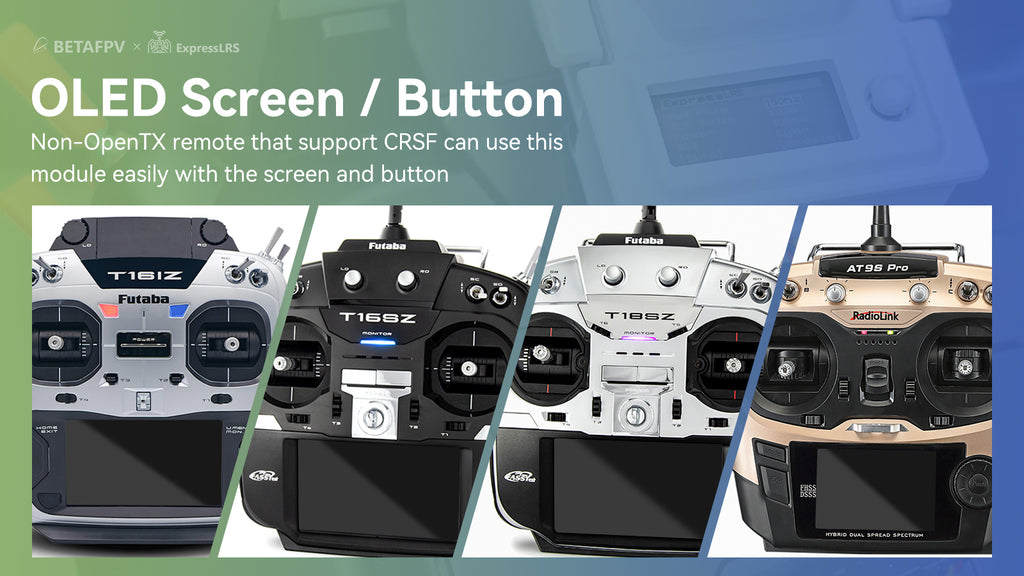 There is a 5D button on the micro module. Pay attention only the virtical dimention works and the other four dimentions are invalid. Below is the basic operation of the button and OLED.
Long Press:
In the lock screen page, long press to unlock and enter the menu page.
In the menu page, long press to change the value of this row.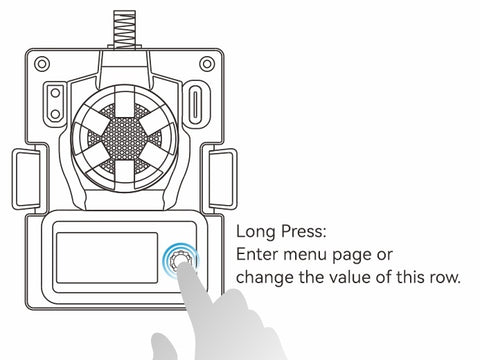 Short Press:
In the lock screen page, short press invalidly.
In the menu page, short press to move to the next row.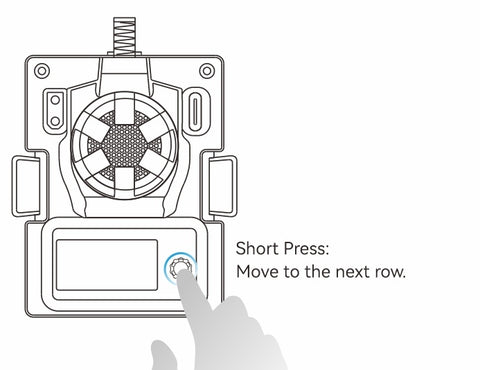 Note:When the RF TX module is entering menus page, the connection between RF TX module and receiver will be lost, the connection will recover after exiting menus page automatically; you must re-power the receiver if you have changed the Pkt Rate.
Note: When the RF TX module enters WIFI Upgrade status, the button will be invalid. Please re-power the RF TX module after firmware update via WIFI.
Basic Configuration
ExpressLRS uses the Crossfire serial protocol (AKA CRSF protocol) to communicate between the radio transmitter and the TX module. So make sure your radio transmitter supports the CRSF serial protocol. We use the radio transmitter with the OpenTX system to show how to set up the CRSF protocol and LUA script. To set this up, in the OpenTX system, enter into model settings, and on the "MODEL SETUP" tab, turn off the "Internal RF". Next, enable "External RF" and select "CRSF" as the protocol.

ExpressLRS use the OpenTX LUA script to control the TX module, like bind or setup. With the LUA script, pilots could check, and set up some configurations of the Nano RF TX module. For more details, please check the Support Page.
Save the ELRS.lua script files onto the radio transmitter's SD Card in the Scripts/Tools folder;
Long press the "SYS" button (for RadioMaster T16 or similar radios) or the "Menu" button (for Frsky Taranis X9D or similar radios) to access the Tools Menu where you can find ELRS script ready to run with only one click;
The below image show, the LUA script run successfully;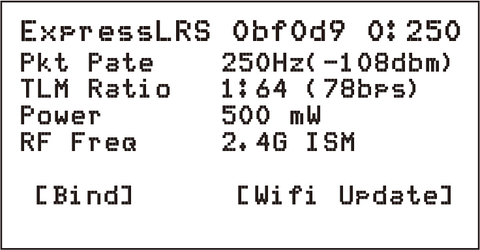 Bind & Output Power
The Micro RF TX module comes with offically major release V1.1.0 protocol and no Binding Phrase inlcuded. So please make sure the receiver works on offically major release V1.0.0~V1.1.0 protocol. And no Binding Phrase setted. Micro RF TX module could enter binding status via ELRS.lua script, as description in "LUA Script" chapter. Besides, using the button and OLED, move to the BIND position and long press the button. Then the RF module will enter binding status.
Note: The LED will NOT flash when entering binding status. The module will exit from binding status 5 seconds later auto. Short and consecutive press 3 times to bind.
Micro RF TX module could switch the output power via ELRS.lua script, as description in "LUA Script" chapter.Besides, using the button and OLED, move to the Output position. Long press the button could switch the output power.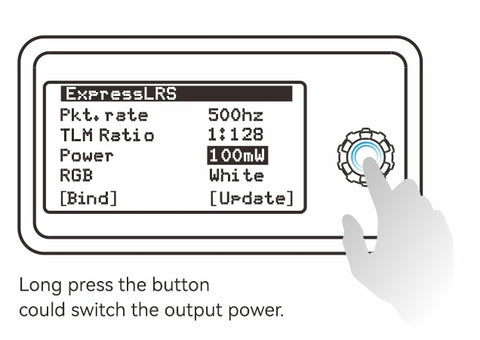 Note: The RGB LED will NOT change according to the output power. When the output power is 250mW or above, the fan will spin automatically. The Micro RF TX module does NOT support 1W or 2W output. When switching to this value, the system will move to 500mW automatically.
FAQ
BETAFPV ELRS Micro TX module user manual download.
Package
1 * BETAFPV ELRS Micro TX module
1 * BETAFPV Moxon antenna
1 * Micro TX module user manual

1 * Spare USB data cable (Type-A to Type-C)
The antenna in the package is not the same as show below for 915MHz and 868MHz version.
The USB port housing is 6.2*11mm and may not compatible with your own USB cables. So a spare USB data cable (Type-A to Type-C) is included in the package for all order since November 18.
For previous order, if you do not have a suitable USB cable for this Micro module, feel free to contact us. Email to support@betafpv.com.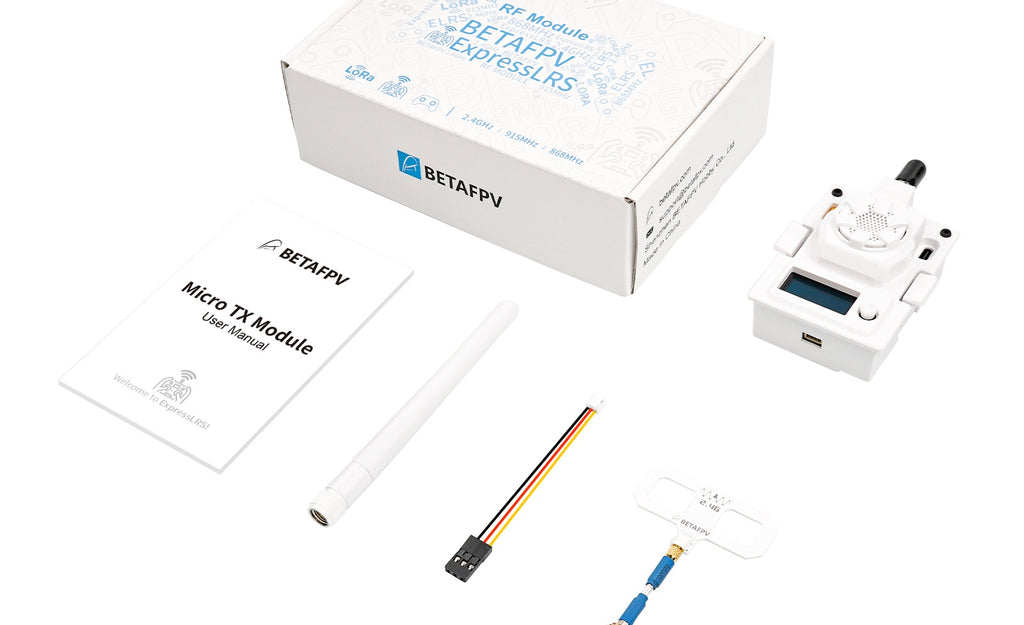 Betafpv.com offers a (30) day manufacture defect warranty, starting from the date the product(s) was delivered to the customer. If more than 30 days have passed since receiving your purchase, unfortunately we can't offer you a refund or exchange.
For merchandise was confirmed as genuinely defective(Product Design problem & Quality issues), we will ship out a replacement free of charge directly. The consumer will not be charged any fees for approved warranty service.
In almost all cases, we will work with you to debug your issue firstly. 
Each claim should have all proof of defect by mean of photo or video showing clearly the defect of the product. Please create a ticket to send us photos or video of your product, a detailed description of your issue, and a description of what you have already done to fix it. We are happy to solve any problem you may meet.
NOTE: The refund amount is limited to the purchase price of the item.
Directly Send Ticket: Create a new ticket
*We do not accept ALL kinds of returns.
*All sales are final.
Affected by Covid-19, there will be some delay in the delivery.
Shipping Methods and Charges
We are currently able to ship orders to most international addresses. But some countries are not available to ship batteries without purchasing of whoop drone (logistics company restrictions).
Two shipping methods are provided for you now. 
Standard Shipping
Expedited Shipping (including DHL / FedEx / UPS. Can not ship batteries)
For expedited shipping, you need to pay weight-based rates, which will be calculated automatically.
For standard shipping, then the shipping fee depends on the value of your orders. 
If your order is more than 20USD and less than 99.99USD, the shipping fee is 5USD. And the standard shipping fee is 10USD if your order is less than 20USD.
Free
 standard 
shipping is offered when your order is over USD$99.99.
Note:
- Some remote address will be charged remote shipping fees according to the quotation of the logistics company.
- Some special products with
big volume 
are not applied to this free shipping rule. The product list as follows:
For the strict Customs Policy, countries below are not available for delivering batteries. Therefore, if you fail to purchase from our site, hope can you understand that. We'll open selling once there is a reliable logistics channel.
-India (Both drones and batteries)
-Kuwait
Shipping Time:
All
orders
will be processed
within 3-5 working days after your payment clearing.
If we are experiencing a high volume of orders or some products are out of stock, shipments may be delayed in a few days.
If there will be a significant delay in the shipment of your order, we will contact you via email. Please make sure your email address is available and remember to check the email for the notification.
Estimated Shipping Time:
Expedited Shipping: 3-7 

working days

Standard Shipping (Registered Mail):  12-30 working days
Please note:
* These are estimated delivery times only, BETAFPV can not guarantee an exact delivery time.
* The estimated delivery time may be longer if any battery included in your order.
* Affected by Covid-19, there may be some delay in the delivery. 
* We accept no responsibilities and liabilities for delay in shipping time as this is beyond our control.
* Any problem about shipping info of your order, please contact Customer Support.
Battery Shpping Issues
- We can't ship the battery to the following countries by now: Indonesia / Middle / East / Indonesia/ Philippines/ Vietnam/ India/ Mexico/ UAE/ Brunei/ Finland/ Chile / Brazil / Oman and other remote areas. If your place a order but we don't have a logistic chanel to ship, we will send an email to inform you cancel the order. 
- For European customers, if your parcel includes only batteries, it will take a longer time for the parcel to arrive in your country. 
Click here
to track your parcel. 
- If you only order batteries without a drone, then it can't be shipped by expedited Shipping (including DHL / FedEx / UPS) because of the strict restriction of shipping.
- If the number of batteries in your order exceeds the acceptable range of the logistics, we will ask you to cancel order or ship the batteries separately(extra shipping fee may be requried).
More Info requried
If  you are in Taiwan, South Korea or Brazil, there is some extra information that we need in your order because of your country's import policy. Please offer the fllowing information in your address, so we can ship your order in time.
Taiwan or Hongkong: please fill your address and name in Chinese.
South Korea: please provide your personal clearance code. If you do not have it, please apply it from this website:
https://unipass.customs.go.kr/csp/index.do
Brazil: please provide your tax number (CPF) in your address.
Chile: please provide your individual tax number in your address.
How To Track My Parcel
We provide trackable shipping service to most of the package. Please click here to reach detail information.
Wrong Address
Shipments will be sent to the address entered on our web page during checkout. We cannot be held responsible if the incorrect shipping address is entered by the customer during checkout. We can only modify a wrong address if customer contacts us before the package is marked as shipped.
We cannot change shipping addresses after the order has been shipped, as the address information you enter is used as part of the fraud checks and fraud prevention. If additional fees are required to re-ship packages due to address errors, those fees may be passed on to the customer.
Packages that are returned because of an incorrect address provided by the customer will be subject to an additional shipping charge. This shipping charge will apply even if you were not originally charged shipping under a free shipping promotion. 
Damaged box or incorrect item(s)
If you receive damaged or incorrect item(s), contact
Customer Support
 in 5 business days with receipt of your shipment to make the necessary corrections. 
* All duties and taxes are the responsibility of the customer. 
Easy, effective and promising!
I have my twig XL and 5" iflight nazgul evoque with betafpv micro TX elrs and, despite minor details to be addressed i must admit it flies like butter. Extremely easy to set and bind, no lua script needed... and way beyond my needs in terms of range. Certainly much better than with the stock receiver. i could not be happier. i imagine we might see pro-grade transmitters with elrs modules integrated soon