2S Battery Charger and Voltage Tester
Regular price
$11.90 USD
Save

$-2.91 USD
---
BETAFPV offers 2 versions of the 2S Battery Charger and Voltage Tester, each with different ports - BT3.0 and XH2.54 - capable of charging both LiHV 8.7V and LiPo 8.4V batteries. Not only does it have a digital display function, but it also features 2S battery voltage monitoring capabilities. Additionally, it supports PD3.0 fast charging protocol. This compact and portable charger is fully functional and user-friendly, and caters to the charging needs of 2S quadcopter enthusiasts, empowering them to recharge their batteries anytime, anywhere.
Note: LiHV(8.7V) stands for High Voltage Lithium Polymer 2S batteries and LiPo(8.4V) stands for Normal Lithium Polymer Batteries.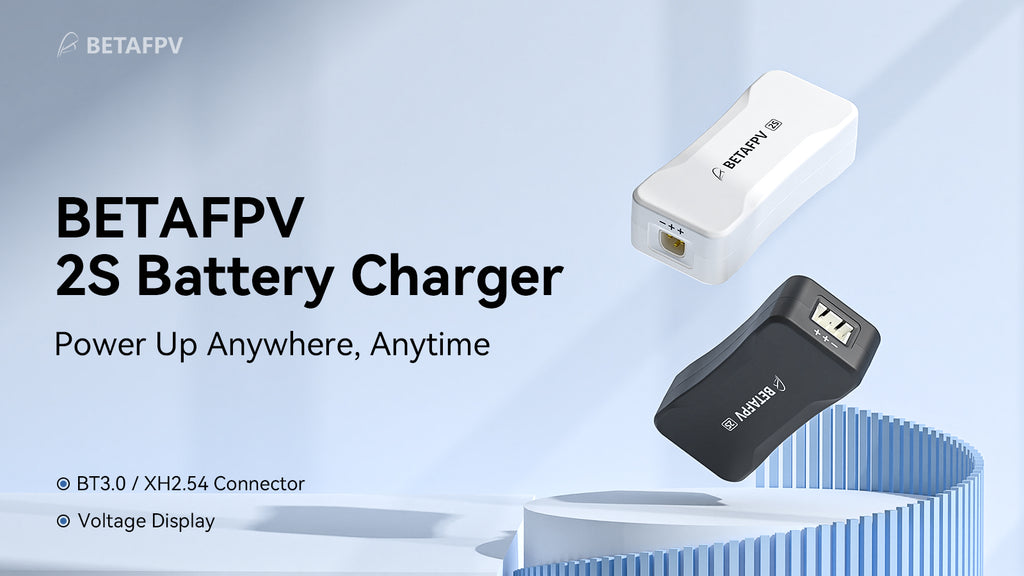 Bullet Point
A compact and portable 2S Battery Charger and Voltage Tester with a digital display, specifically designed for the BT3.0 series of batteries.
It supports the PD3.0 fast charging protocol, offering higher power output and multiple charging options for a faster and safer charging experience with compatible devices.
Equipped with a digital display function and capable of monitoring battery voltage during charging.
With dual variants boasting BT3.0 and XH2.54 ports, this charger offers RC users different connection options.
Featuring a Type C interface instead of a USB interface, providing an even wider selection of charging options
Fulfilling the charging requirements of 2S batteries, this charger is a go-to choice for discerning enthusiasts.
Specifications
Battery Type: BT3.0-LiHV(charging voltage:8.7V) / XH2.54-LiPo(charging voltage:8.4V)

Product Color: White(BT3.0) / Black(XH2.54)

Input Interface: Type-C USB

Input Voltage Range: 5-12V

Input Power: Maximum 15W

Maximum Input Current: 2.5A

Charging Protocol: PD3.0

Weight (per charger): 17.0±1.0g

Dimensions (L×W ×H): 61*25*17mm

Battery Capacity Display:

LED Digital Display

displays the total voltage and individual cell voltage of the 2S battery.

LED Digital Display

and Red LED indicate charging status:
| | | |
| --- | --- | --- |
| LED Digital Display | | Description |
| Circling rectangular display  | | |
| Total voltage | | |
| Rectangle symbol | | |
| No display | | |
Note: When the charger fails to charge or the red light flashes, please check whether the battery is normal or replace the battery for charging.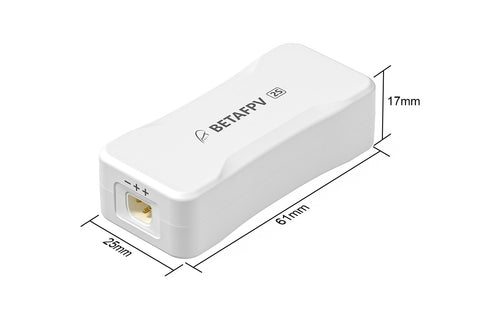 Usage Notes
Please note the polarity markings on the device and do not connect the charger in reverse polarity.
The 2S Battery Charger and Voltage Tester only supports charging for 2S batteries, not 1S batteries.
The charger can only charge one battery at a time and is not designed for charging two or more batteries simultaneously.
XH2.54
This charger is compatible with 2S LiPo batteries(8.4V) and has an XH2.54 battery port. Please note that charging 2S LiHV batteries (8.7V) may result in undercharging. We recommend using a LiPo 2S battery with a corresponding balance connector available in the market. During the charging process, if the digital display shows a voltage exceeding 8.4V (e.g. 9V), please disconnect the power supply immediately and check if there is any issue with the battery or the charger.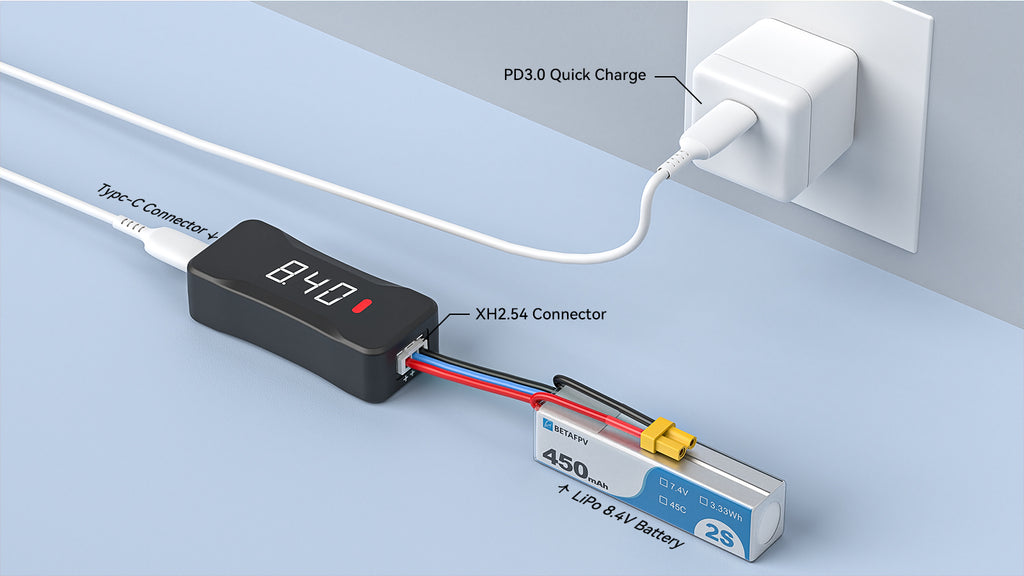 BT3.0
This charger is designed to charge 2S LiHV batteries(8.7V) with a BT3.0 battery port. Please note that attempting to charge 2S LiPo batteries(8.4V) may pose a risk of overcharging. To ensure safe and optimal charging, we recommend using it with the BETAFPV BT3.0 450mAh 2S LiHV battery. During the charging process, if the digital display shows a voltage exceeding 8.7V (e.g. 9V), please disconnect the power supply immediately and check if there is any issue with the battery or the charger.
BT3.0 Series Accessories
The BETAFPV BT3.0 series accessories represent a line of products tailored exclusively for 2S whoop drones, comprising three categories of items, connectors, battery, and charger, forming an integrated set of accessories capable of working in perfect harmony. The BT3.0 connectors obviate the need for balance connectors while streamlining the BT3.0 450mAh 2S Battery (2PCS) and enabling greater convenience and higher performance of the 2S drones. When used in conjunction with the 2S Battery Charger and Voltage Tester, a more efficient and stable charging experience can be realized.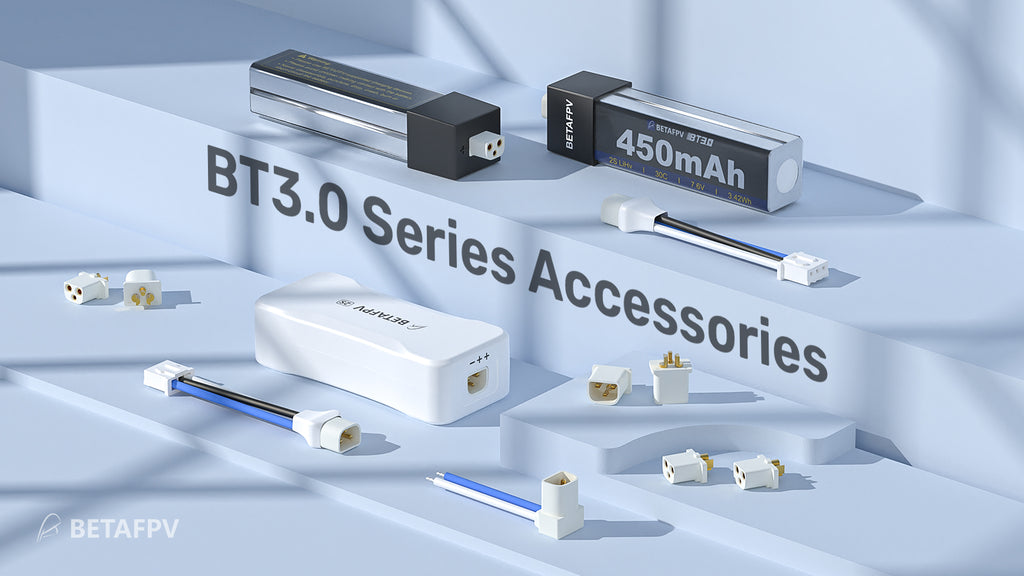 We highly recommend combining the following products to upgrade your 2S whoop drone with a set of efficient and user-friendly accessories:
Recommend Parts
Package
Item: 2S Battery Charger and Voltage Tester | XH2.54/BT3.0
1 * 2S Battery Charger and Voltage Tester

 | XH2.54/BT3.0

1 * 70*50mm Manual in Chinese and English

1 *

 

100*150mm Anti-static Bag
1 * Service Card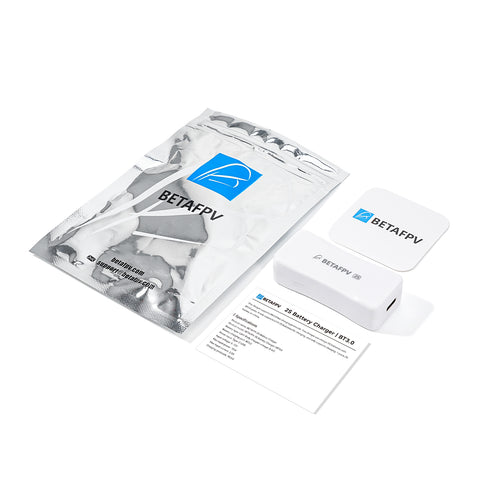 Note: The package above is the 2S Battery Charger and Voltage Tester

 | BT3.0.
Betafpv.com offers a (30) day manufacture defect warranty, starting from the date the product(s) was delivered to the customer. If more than 30 days have passed since receiving your purchase, unfortunately we can't offer you a refund or exchange.
For merchandise was confirmed as genuinely defective(Product Design problem & Quality issues), we will ship out a replacement free of charge directly. The consumer will not be charged any fees for approved warranty service.
In almost all cases, we will work with you to debug your issue firstly. 
Each claim should have all proof of defect by mean of photo or video showing clearly the defect of the product. Please create a ticket to send us photos or video of your product, a detailed description of your issue, and a description of what you have already done to fix it. We are happy to solve any problem you may meet.
NOTE: The refund amount is limited to the purchase price of the item.
Directly Send Ticket: Create a new ticket
*We do not accept ALL kinds of returns.
*All sales are final.
Shipping Time and Rules
Estimated Shipping Time
Expedited Shipping: 3-7 working days
Standard Shipping (Registered Mail): 12-30 working days
Please note:
There are estimated delivery time only, so BETAFPV can not guarantee an exact delivery time.
The estimated delivery time may be longer if any battery is included in your order.
Affected by Covid-19, there may be some delay in the delivery.
Track Package
After the order is shipped, you will receive a notification email containing the tracking number (you need to register BETAFPV website when placing the order). You can enter the tracking number to check your package shipment status below. Please contact BETAFPV customer support for help if you are not able to track it.
PO Boxes/APO/FPO Addresses
Shipments to PO Boxes, APO, FPO may be declined.
Batteries Shipping
Some countries or remote regions are forbidden to ship stand-alone batteries due to restricted Customs rules.
We will notify you if we are unable to ship batteries to your location. For expedited shipping like DHL, stand-alone batteries are prohibited to be shipped.Devices packed with less than or equal to two batteries like drones are available to be shipped. Devices in which Batteries contained like transmitters or goggles are accepted to be shipped without limits.
Battery Type Definitions
Stand-alone: Package ONLY contains batteries or cells; NO equipment
Packed with: Package contains equipment + cells or batteries that are NOT installed in the equipment. For example, BNF drones with batteries or RTF drone kits.
Contained in: Package has lithium batteries contained in equipment (properly installed in the equipment they are intended to operate). For example, radio transmitter or goggles.
List of Countries That Prohibit From Importing Drones or Batteries
Choosing standard shipping will be restricted.
Asia: India, Indonesia, Malaysia, Vietnam, Philippines, Pakistan, Qatar, Oman
Africa: South Africa
Note: It will be available for drones shipment if you would like to choose expedited shipping like DHL.
Address Information Requirement
For orders from below countries or regions, address information is specially required.
Hong Kong or Macao: Please fill address and name in Chinese (traditional).
Taiwan: Please fill address and name in Chinese (traditional), and provide personal ID number due to Customs requirement.
South Korea: Please provide personal clearance code. You can apply for it from the below link if you do not have one.
https://unipass.customs.go.kr/csp/index.do
Brazil: Please provide your tax number (CPF) in your address.
Chile: Please provide your individual tax number in your address.
Indonesia: Please provide your personal ID number in your address. Provide NPWP number if you place order as company.
BETAFPV Assume No Responsibility For Delayed Or Rejected Orders Due To The Following Reasons
Shipping time might be delayed for 3-7 days for transportation to remote regions. It might be 7 days longer if ships to islands area like Hawaii, Puerto Rico, Canary Islands etc.
Delay or delivery failure because of the consignee's actions. These actions include, but are not limited to: changing the address after shipment, entering an unknown address or wrong address, entering incorrect contact information, and refusing to receive, etc.
Delay due to force majeure. "Force majeure" means an unforeseen, inevitable, or insurmountable objective situation and other objective conditions that cause delayed shipping, including, but not limited to: national or regional air or ground transportation system controls or interruptions (e.g., weather reasons), communication system interference or malfunction, government actions, postal administration policy changes, wars, earthquakes, typhoons, floods, fires, heavy rain, heavy fog, and other similar events.
Mail and packages cannot be delivered to the consignee's address during weekends, national holidays, and festivals.
The consignee address is a school, hotel, unit, or residential community where the courier has no access. Please provide a permanent street address.
*Please confirm your address before payment. If you enter the wrong address, please contact BETAFPV customer support in a timely manner.
Shipping Method and Fee
Standard Shipping
We offer free standard shipping on orders of $99.99 or more. If your order does not qualify for free shipping, the shipping fee will be charged $5 on orders of $20 - $99.98; charged $10 on orders of less than $20. (Shipping fee will be different when delivering to remote countries/regions.)
Products with big volume are excluded from free shipping rule due to dimensional weight calculated by shipping company.
The product collections list is as follows:
Expedited Shipping
We offer expedited shipping service worldwide including islands area. The shipping fee will be shown on the check-out page once the expedited shipping method is chosen.
Note: Purchasers are responsible for customs duties, taxes, customs clearance and other costs incurred when choosing expedited shipping.
FAQ
How long until my order ships?
All orders will be processed within 1-2 working days after your payment.
If we are experiencing a high volume of orders or some products on back order, shipments may be delayed by a few days.
If there will be a significant delay in the shipment of your order, we will contact you via email. Please make sure your email address is available and remember to check the email for the notification.
After I place an order, how do I change my order before shipment?
The nation cannot be changed once an order has been placed. If you need to change these details, please cancel the order and purchase again. Please contact BETAFPV customer support in 24 hours after placing the order if you need to change order product information or address.
How do I cancel after I have placed the order, but it has not shipped?
You can contact BETAFPV customer support for canceling if your order has not been shipped. If your order has been shipped less than 24 hours, please contact the customer service to help. We will try to hold your order from the shipping company.
It is impossible to cancel if your order has been shipped over 24 hours.
Under what circumstances will BETAFPV cancel an order unilaterally?
Product(s) unavailable currently, BETAFPV tries to contact customers and does not get a reply in 7 days.
High-Risk Order(s) identified by Credit Card bank or Paypal. To ensure your card safety, we will cancel your order.
No Shipping Methods. If we are not able to ship to your location, Your order will be canceled.
*The right of final interpretation of the shipping policy resides with BETAFPV